DR+ Medical &Paincare GP Clinics
Our patients enjoy access to our network of General Practitioner (GP) clinics islandwide for convenient primary care and pain relief services.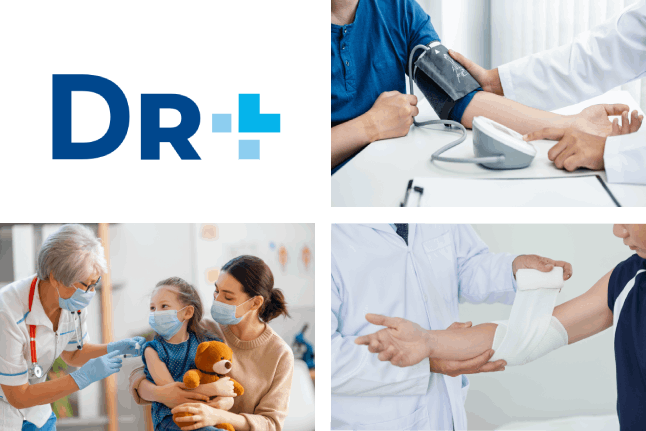 Why Us?
DR+ Medical & Paincare clinics are our general practitioner ("GP") clinics that offer primary healthcare services with pain care as an area of focus. Our doctors work together with our patients toward long term pain relief and the prevention of chronic diseases and severe illness.
They have undergone rigorous training and continuous education on pain management, family medicine, nursing and clinical service standards by SG Paincare Academy.
Expand All
/
Collapse All
Pain Management
Our pain care management services complement our provision of primary care services by addressing the pain of our patients due to chronic and acute conditions.
Our GPs are trained in the use of specialised pain injections to help alleviate pain. The range of specialised injections include Myofascial Block, Nerve Block, Intra-articular Injection as well as Steroid Injection. These procedures are done in the clinics and are generally used to treat a wide variety of painful conditions.
Pain conditions we treat include but not limited to:
Bone Spurs
Finger, Hand & Wrist Pain
Golfer/ Tennis Elbow
Need help in assessing your pain accurately? Get a detailed Pain Screening by our specialists today.
Chronic Disease Management
Chronic diseases are medical conditions that are persistent or otherwise long-lasting in its effects. It is important to take charge of your health and manage these conditions early. We provide continual care to help patient manage their chronic diseases (see below):
Diabetes
High Blood Pressure
High Cholesterol
Heart Disease
Asthma / COPD
Kidney Disease
Dementia
Stroke
Osteoarthritis
Parkinson's Disease
Women's Health
We provide medical consultation and assistance to manage common conditions and risks experienced by women. Our services include:
Breast Examination
PAP Smear
Cervical Cancer Screening & Vaccination
Bone Mineral Density Test
Menstrual Health
Men's Health
We provide medical consultation and assistance to manage common conditions and risks experienced by men. Our services include:
Erectile Dysfunction
Prostate Disorders
Premature Ejaculation
Children's Health
We provide regular health and development reviews and vaccinations for children from infancy through adolescence to ensure their healthy growth and development. Our services include:
Child Vaccinations
Developmental Assessments
Health Screening
Take charge of your life by detecting early for signs of serious conditions such as cancer and high blood pressure. We offer a wide range of health screening packages that can be tailored to individual needs. To find out more about our health screening services, visit any of our clinics and have a chat with our friendly doctors.
Vaccinations
Vaccination is an important and effective way to protect yourself and your loved ones from infectious diseases. A range of vaccinations is available at our clinics for everyone, including infants, children, adults and elderly, and for general well-being and travel. To find out more about our health screening services, visit any of our clinics and have a chat with our friendly doctors.
Umrah/Haj Vaccination (Meningococcal Meningitis Vaccination)
We provide meningitis vaccines that protect against specific bacteria or viruses that can cause meningitis, a serious infection of the brain and spinal cord. Available in all DR+ clinics.
COVID-19 Tests
We provide several COVID-19 tests like the Antigen Rapid Test (ART) and Polymerase Chain Reaction (PCR) test, that are approved by the Ministry of Health (MOH).
All COVID-19 tests are available at all our clinics located across Singapore. Locate our GP clinics.
Have any questions about our COVID-19 tests? Head over to our COVID-19 test page.
Corporate Healthcare
Employees are the lifeline of every company. Gain the benefits of tailoring your perfect corporate healthcare solutions with us to keep your employees healthy and safe. Our corporate healthcare programme offers reliability, flexibility and cost saving to companies.
Below are a range of corporate health services we provide and these can be tailored to fit your every business.

Pre-Employment and Post Employment
Check-ups / Permits
Occupational Assessment
Covid-19 Screening
Health Screening
Vaccinations
Workplace Accidents/Acute Medical Emergencies
Stitching and Dressing of Wounds
Removal of Stitches
Tissue Glue Applications for Cuts
Drainage of boils and abscesses
ECG
Ear Syringing
Keloid Injection
Nail Avulsion (ingrown toenail)
Medical Examinations (Employment Permit / Student Pass/ Insurance)
We provide medical check-up for the following purposes:
Pre-employment
Employment pass
Student pass
Maid check-up
Work permit
Insurance underwriting
Dermatology Services
Our general dermatology includes the diagnosis and treatment of common skin conditions such as but not limited to:
Acne
Atopic Dermatitis
Eczema
Scar Management
Hair Loss
Pigmentation
Psoriasis
Viral and bacterial skin infection
Benign and malignant growths of the skin.