Singapore Paincare Center
Relieving Pain, Restoring Function, Renewing Life
Singapore Paincare Center
Singapore Paincare Center is your one-stop clinic for pain treatment and rehabilitation. We've been administering pain treatments since 2007, helping many patients live fruitful lives free from pain — restoring body function, slowing down the effects of degeneration and renewing their quality of life.
Led by Dr. Bernard Lee and his team of pain specialists, paincare doctors, surgeons, TCM physicians, physiotherapists and psychologists, SPCC provides truly integrated and comprehensive paincare solutions. With experts from multiple disciplines, we can take a holistic approach and provide pain treatment solutions that are tailored for each patient's preferences.
SPCC's unique diagnostic approach and proprietary minimally invasive techniques and supplementary programmes work together to provide a holistic plan for our patients to achieve sustained pain-free living.
Don't suffer in silence from degenerative pain conditions— we are here to help you with your pain at Singapore Paincare Center.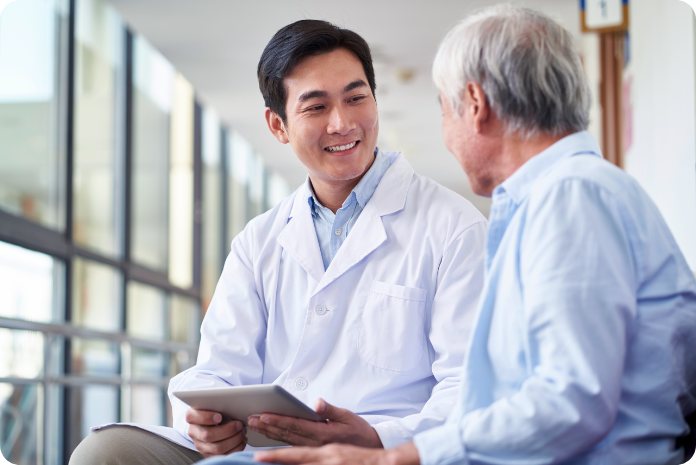 We Treat All Types of Pain
As your pain care experts, we treat all types of chronic and difficult pain conditions throughout the body. Find out more about the types of pain we can help you with.
Our Team
Our paincare team consists of leading experts and professionals in pain medicine and interventional pain procedures.

Reach Out to Pain-Free Living
With our tailored paincare programme, you will be able to reach out for your freedom in life
Our two clinics are located at Paragon Medical Centre and Mount Elizabeth Novena Specialist Centre. We strive to create a welcoming, relaxed and comfortable clinic environment for all our patients. For patients who require a longer recovery time after treatment, they will be provided with a private room and bed to rest while they regain their mobility. A wheelchair is also available for our frail and weak patients who have pain and need some extra tender care.
We are here with our patients throughout their wellness journey. Every patient who steps through our door receives guidance from our professional and caring Relationship Managers who will walk you through every step of the pain treatment process — from consultation to treatment and post-treatment care. Our Relationship Managers also go the extra mile to provide continuity of care by assisting patients with home rehabilitative needs, giving advice on diets and scheduling calls to check on their health progress.