About Cancer Pain Treatment Options
Medications: Oral, Patches, Subcutaneous
In most cases, pain specialists follow what is called the "pain ladder" when planning treatments for cancer patients. The first rung on the ladder is analgesic medication and if it does not relieve the pain, still stronger medications containing morphine are given. For patients who do not like oral medication, there are sustained-release morphine-like patches that give good long-lasting relief. If further relief is needed, the doctor goes up another rung on the ladder, which is to give higher doses of the strongest medications. Unfortunately, pain medications can cause some patients to experience unpleasant side effects, like nausea, drowsiness and constipation. Not infrequently, other non-pain killers can be effective in the treatment of cancer pain.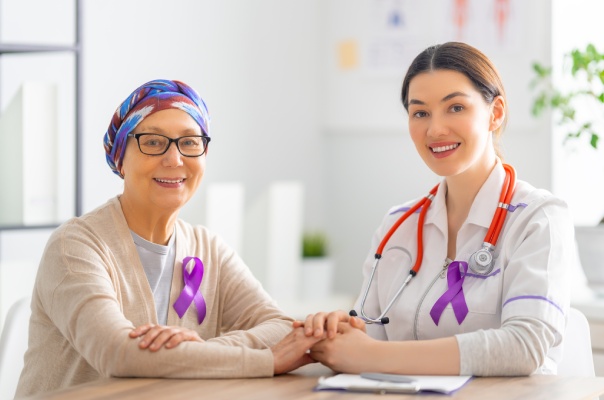 Interventional Pain Procedures: Neurolysis
Non-medicine treatments are sometimes added to the pain-relieving process.  In certain types of cancer pain that are localized, chemicals may be introduced to the nervous supply of that area through minimally invasive techniques.  These medications block the pain and "burn-off" further transmission of painful signals.  The effect can last from 36 months.  The neurolysis procedures potentially can treat liver, stomach, pancreatic and colonic cancer pain.  Other adjuncts include transcutaneous electrical nerve stimulation (TENS), which sends small, non-painful electrical bursts to areas of the skin.
Advanced Pain Control: Intrathecal Drug Delivery
Some pain conditions can be very painful and refractory, eg, cancer pain with bony metastasis, neuropathic pain secondary to cord myelopathy and many others. Despite optimization with conventional oral strong painkillers (eg, Morphine), the pain relief does not increase accordingly but yet the side effects escalate. Patients develop distress and disappointment, progressing to depression and a lower quality of life.
Most pain medication act on the spinal cord as this is where all the pain receptors are.  All oral medications, after oral administration, undergo metabolism and breakdown before they finally reach the pain receptor in the spinal cord.
In intrathecal administration, the drugs are applied directly into the spinal cord.  This allows for a reduced amount of medication needed to achieve the desired pain control without the associated side effects.
All of it goes into the pump that delivers a set amount of drug into the spinal cord. This computerized pump delivers a very exact amount of medication, without fear of overdosing or underdosing.  The patient will return for a refill of medication in the pump once in a couple of months.  This small pump will be implanted into the patient.
Advantages of IT pump:
Better pain control with less medication
Increased survival, compared with poorly-controlled cancer pain
Less sedation effects with more clear-headedness
Less side effects of medications (eg, constipation, nausea)
Increased patient satisfaction
Less oral medication
No need for frequent follow-ups.